Ref:
Date:
Location:
Photographer:
Ref:
Date:
Location:
Photographer:
RITUAL
The artist's process of working is part of the artwork itself and becomes ritualistic. In complete silence and isolation, Ewa adorns herself with secret emblems while she paints. Whether its antique geisha shoes with her paintings on their sole, wet cloth wrapped around her body , or paint from the canvas on her skin, these semiotics add a religious undertone which seep into the layers of her artwork.
Ewa's painting process itself is unusual , as she combines traditional Renaissance techniques, specifically chosen mediums that are steeped in symbolism , and paints 'blind'. She takes out her contact lenses or closes her eyes and paints what she sees: those deeper realities that come through via sense and lives inbetween the seen and the unseen .
'Only by looking at things that are seen do we gain any idea of the unseen...
It is the unseen things that give meaning to the things which are seen'
The seen is the shadow...the unseen the substance' Corintheans 4:18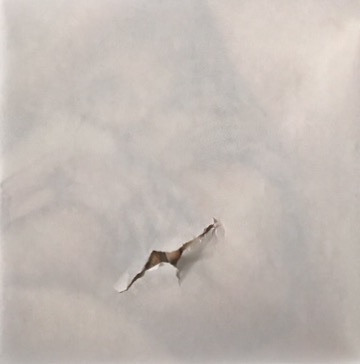 SHROUD 2018, oil, blood and Scritta (Bible Paper) on canvas, 30 X 30 cm